JOY FLIGHTS FROM ROTTNEST
JOY FLIGHTS from the ROTTNEST ISLAND AIRPORT
For when you are on Rottnest Island and want to see it from the

best angles.

Even our 10 minute flight is enough time to tour

all the way around Rottnest Island.

Amazingly there is the terrific option to

fly over Perth city too!

Otherwise, a quick flight back to Perth (Jandakot) is available today!
Flight duration advertised below is the expected actual airborne part of your scenic flight.
Rottnest transfers, and joy-lights from Jandakot Airport are fully available online.  However, the following joyflights from Rottnest Airport are currently available by contacting us directly.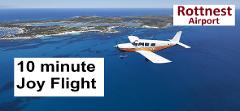 FROM ROTTNEST Airport, this scenic flight gives terrific viewing all the way around Rottnest Island. Ideal for aviation first-timers.  Price given per adult, minimum 2. Discount for children.
Duration: 10 Minutes        –        $65 pp
Also from ROTTNEST, this flight includes two orbits around the Island. High up for an overview, then again lower down for a closer inspection!  Minimum two passengers. Discount for children.
Duration: 20 Minutes        –        $95 pp
From ROTTNEST, we will take you over the Metro beaches to Perth City, Optus Stadium, the Swan River to Fremantle and then back around Rottnest Island. It's great viewing and terrific value-for-money. Minimum two. Discount for children.
Duration: 35 Minutes        –        $145 pp